Butterflies
Adult butterflies are naturally attracted to flower colours that indicate the flowers are good sources of nectar. Nectar is the sweet liquid flowers produce as a 'reward' to insects that visit the flowers and thus carry pollen from flower to flower.
So to attract butterflies plant nectar-producing flowers such as:
Tickseed
Cosmos Sunflower
Hound's Tongue
Fox Glove
Livingstone Daisy
Viper's Bugloss
Californian Poppy
Fineflower Gilia
Godetia, Satin Flower, Farewell to Spring
Baby's Breath
Dame's Rocket, Damask Violet, etc.
Candytuft
Tree Mallow
Toad Flax
Blue Flax
Flowering Flax, Red Flax
Baby Blue Eyes
Love in a Mist
Evening Primrose
Shirley Poppy
Flanders Poppy
Lacey Phacelia, Blue Tansy
Of course, butterflies are the adult form, and their larvae are caterpillars. Caterpillars have very different feeding habits to their adult butterfly form.
Nectar is so named after the 'wine of the gods' and provides the adult butterflies with the energy they need to fly, mate and lay eggs. They do not need food for growth as their growth phase is almost exclusively in the caterpillar stage.
Caterpillars are voracious feeders on the foliage of plants. These may or may not be wanted in your garden. E.g. Cabbage white caterpillars can do great damage to the Brassica crops in your vegetable garden.
Butterfly caterpillars are often very selective in the plants on which they will feed. E.g. Monarch caterpillars are feeders on milkweed and swan plants, so if you want monarch butterflies in your garden plant swan plants; but expect them to be heavily eaten by the monarch caterpillars.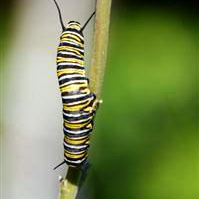 So to encourage butterflies in your garden you can also plant caterpillar host plants that provide food for the caterpillars of the butterflies you want.
Butterfly caterpillar host plants:
Red and Yellow Admiral - stinging nettles
Long-tailed and Southern Blue - legumes (pea family) including clovers, trefoil and medics
Rauparaha's and Coastal Copper - Wire Vine (pohuehue) and creeping pohuehue
Glade Copper - Large leafed pohuehue
Monarch - Swan plant
Other things to consider in making your garden suitable for butterflies are:
Plant the nectar plants in sunny locations sheltered from the wind.
Provide a moist sand or mud area where the butterflies can drink and obtain salts and other nutrients.
Provide flat light coloured rocks in sunny locations where the butterflies can bask and warm themselves in the sun.
Avoid using insecticides on or around flowers or other surfaces where butterflies would land.
Control wasps. Wasps are predators of butterflies and their increase may be one reason for the decline of butterflies in NZ.
Enjoy watching butterflies flitting from flower to flower in your garden. Blooming easy!
David Brittain
Kiwicare