Getting rid of rodents on your property can help save our birds
Every year in New Zealand around 25 million native birds are killed by introduced predators like rats and mice and possums. It's a tragic and alarming statistic. The songs of native birds are one of the most iconic aspects of New Zealand nature, and our country wouldn't be the same without them. Fortunately, it's not too late and if we all play our part our birds can be saved, with the added bonus of eliminating rats and mice from your home and garden!
The impact of predators
Many of our native birds are threatened, and if we don't act, some may be lost forever, along with their beautiful bird songs. And that's why predator control is so important.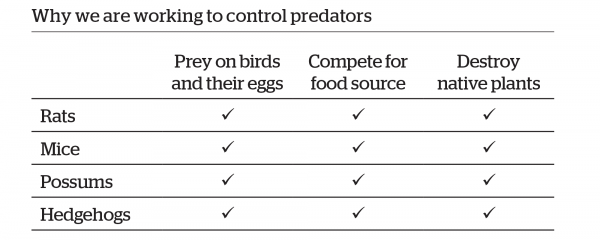 How can you help save our birds?
Although a nationwide problem, tackling it can begin in your very own backyard. Because protecting your backyard protects our wider backyard too.
To get started have a read of our easy 1-2-3 step rodent control programme, it provides you with all the information you need to effectively eliminate rats and mice from your backyard. It provides useful tips and information and also walks you through the process of searching for rodent activity, removing food sources and then trapping/baiting rats and mice as well as the clean up once they're gone.
Rodent control products
The Kiwicare Predator-Free Kit

To make your life a little easier, and also help give back to the initiative, Kiwicare has created an innovative Predator-Free Kit with everything you need to make your backyard Predator Free. We will also be giving a portion of the profits to the Predator Free Trust to help support the fantastic work that they're doing in our communities and schools.

This innovative kit holds everything you need to eliminate rodents and begin your Predator Free journey. The box the Predator-Free Kit comes in even converts into a convenient rodent trapping/baiting tunnel that helps to keep pets and children safe as well as other non-targeted species.

Here's what you'll find in your Kiwicare Predator-Free Kit:

Discovery Kit 3 Pack includes Rodent Detector Cards
Victor Modified Rat Trap (NAWAC approved)
NO Rats & Mice Bait Blocks 100g
Trapping Tunnel & Pegs
McGregor's Wildflower Bee Attracting Mix Pack

Available exclusively at...

Predator-Free Discovery Kit Rodent Detector Cards

This year Kiwicare has launched a brand-new product called a Predator-Free Discovery Kit. Made up of three rodent detector cards treated with a non-toxic, peanut based lure. All you need to do is install the cards where rodents are likely to be active and check them regularly. If you find they're starting to be chewed on it's time to start setting up your rat/mouse traps and baits and get control of the situation before their population gets out of control.

Available exclusively at...

NO Rats & Mice Range

In addition to the above Predator-Free products, Kiwicare also has a wide range of NO Rats and NO Mice products to suit your individual rodent control needs. From bait blocks and bait stations through to bait tracking powder and rodent traps we have all your needs covered.

Our NO range is available at all good hardware stores and supermarkets.